Boston Area Toy Collectors Club's
12th Annual National Collectible Toy Event = FUN!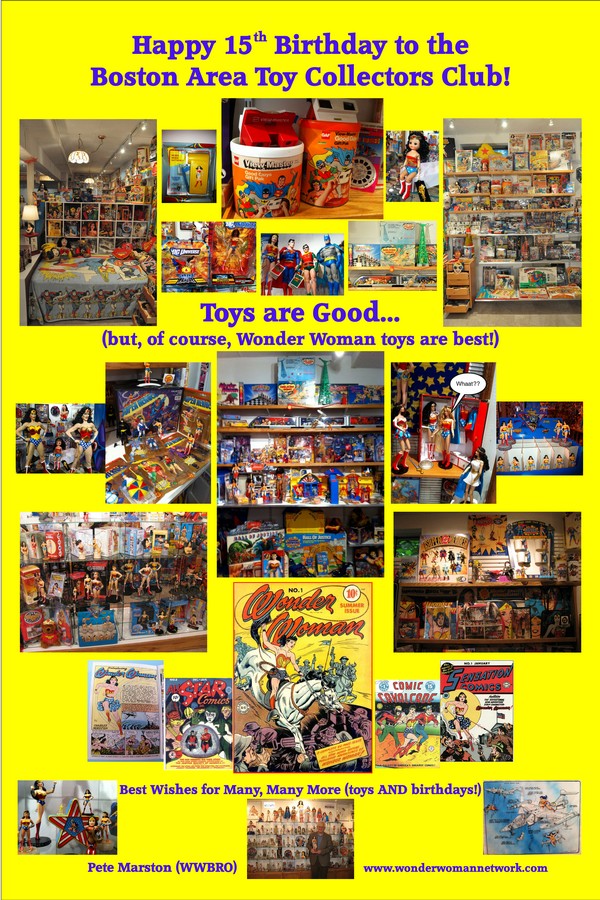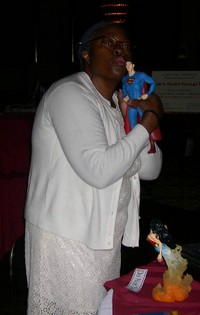 We were welcomed at the door by Beverly Ball O' Fire [well, Beverly Lanzilla] with her huge warm smile, and felt instantly at home. She gave Pete a big hug, adorned him with a Wonder Woman lanyard, and put a wonderful WW journal into his hands. It all happened so fast that we missed our photo op...and kept missing it, because this dynamic woman was on the move nonstop all night, keeping the event running smoothly! Most definitely a Wonder Woman!
[had to swipe this pic off the BATCC site from last year's event...okay, she IS kissing Superman, but certainly Wonder Woman had her kisses, too! ]
We started to tour the displays before sitting down to a delicious dinner, but never really got to see everything because we kept meeting interesting and entertaining people!
There were speakers, incredible raffles, a silent auction, a Happy 70th Birthday to Wonder Woman, and plenty of comraderie and good humor - altogether, a perfect night!
Thank you, BATCC!
Another shot we missed! Stephen Lanzilla, founder of BATCC was kept hopping all night! Above, Stephen being interviewed, shown in a photo taken by G. Sullivan [uh huh, 'borrowed' this one off the BATCC site, too... visit their site at http://bostontoyclub.com ]

At right, and in the sidebar pics, you can see a little bit of Steve Sylvia's very impressive Wonder Woman collection which he brought to help celebrate Wonder Woman's 70th birthday. We didn't have a chance to discuss his entire collection, but will report back as we learn more!.

Bexx Fine with her newly created accessory line - VERY fun things which she fashions using art cut from comic books! From bowties and shoes and bags, to tables and chairs - let her loose on anything and you end up with art!

BATCC member Dave Campbell, sporting an awesome Wonder Woman bowtie designed by Bexx Fine. Dave is a dedicated collector and all round good guy. He and Stephen ran into Pete at ComiCONN earlier this year, with the end result of meeting up again for this very fun event.

Pete Marston expresses his appreciation to the folks who have kept Wonder Woman alive and well for 70 years; primarily Lynda Carter and toy and collectibles collectors!

Jason Reilley, partner and creative designer at Tonner Toys, shown with the first Tonner Wonder Woman doll from 1999, and the recent Amazonia addition to the line. Jason is a long time Wonder Woman fan, and we REALLY hope to see that reflected in the Tonner Toys line up in the future!

above, Pete Marston with Wonder Woman Maureen Gilmore in her Diana Prince disguise, chatting early in the evening.

At right, later in the evening - surprise! Wonder Woman appears! [Pete seems pretty happy...] Pretty hard to believe that this wonderful woman is a grandmother, but she insists that this is the case!

Amazing! We fully expected to be back at the hotel and sound asleep by 10, but we were all still smiling and laughing while making our midnite exit! That's because of all the great people!

[and it should be noted that the always polite Dave never once made mention of the odd juxtaposition of tuxedo and WW bathrobe at the same event...]