Look! Wonder Woman signed my shirt!
From the desk of M "Pete" Marston 10/26/09: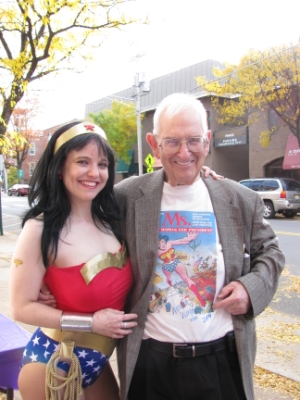 I was fortunate to be able to visit the Wonder Woman Day event at Comic Fusion in Flemington, NJ.
The weather was perfect and the folks at Comic Fusion are really nice, honest, and solid people who always make me feel welcome. The day was a success and I got to spend time talking to owners, artists and customers as well as the nice Ladies who represented "Safe In Hunterdon", the caring center for battered women and children. Another big plus for the day was to spend some time with Stacy Korn, the NJ organizer for WW Day and also with Beth Delaney who was the costumed Wonder Woman. What a Doll!
October 25, 2009, the celebration of Wonder Woman Day was a resounding success, both in Flemington, New Jersey at Comic Fusion, and Portland, Oregon at Excalibur Comics.
Wonder Woman Day is the brainchild of Andy Mangels. His concept was to create an event that could financially contribute to organizations for helping battered women and children by auctioning donated original comic art and other related items.
October has been declared National Domestic Violence Awareness Month and attention plus focus on support have been successful. Andy Mangel's concept was to involve a nationally recognizable name to focus attention on the program and by making Wonder Woman the figurehead for the effort he was successful for several years.
Portland, Oregon is a big city and Excalibur Comics has put a tremendous effort in creating a special day by making room for an incredible number of donated art works by many nationally and locally well known artists.
In Flemington, New Jersey, Stacy Korn and her partner, Bill Meccia at Comic Fusion have also done a fantastic job. Stacy has gone all out to recruit artists including James Fiorentino of Visionary Art to contribute, and, while she was busy with that effort, her partner Bill anchored the store. This year they went over the target mark for fund raising and also had their Wonder Woman gal, Beth Delaney in her WW costume to help. She stood outside the store for much of the event on Sunday and has such a dynamite smile that passing motorists honked and waved and kids yelled "Hi Wonder Woman"!
A very special event at the New Jersey Wonder Woman Day was the daylong appearance of Joe Sinott, nationally known for his art in comics like The Avengers, Fantastic Four, and X men. He did sketches for the event and also signed comics. His son Mark, and grandson Trevor accompanied him. A really nice and talented man!
Comic Fusion website: www.ComicFusion.com
Pete thoroughly enjoyed himself at Comic Fusion in Flemington, NJ celebrating Wonder Woman Day!
Comic Fusion owner Stacy Korn & Wonder Woman Beth Delaney at Comic Fusion

Artist Joe Sinott hard at play

Artist Chris Muller & WW Beth Delaney

Artist Joe Sinott, WW Beth & Pete Marston at Comic Fusion
How cool is this?!?
[right click and 'view image' for full size]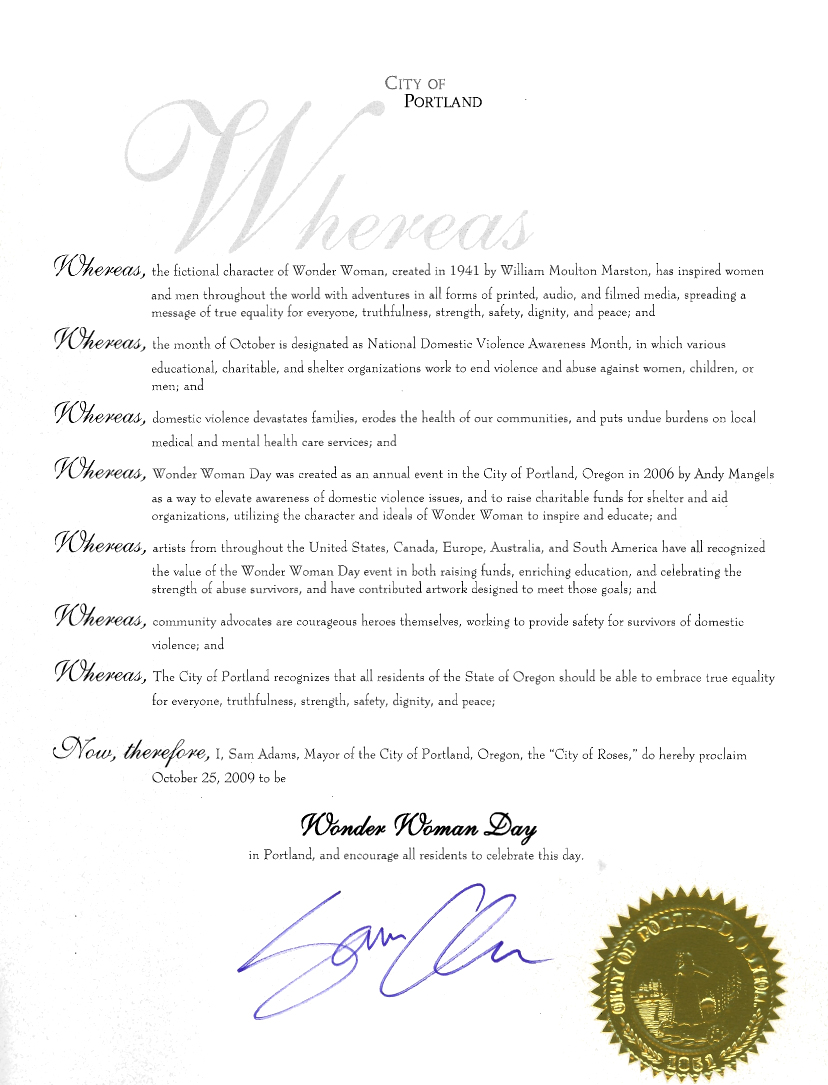 Mayor of Portland, OR, Sam Adams proclaims Official Wonder Woman Day!