We're expanding the museum!
What started innocently enough as new gallery space with Chris Hayes' Amazon Archives/Al Rio art wall last fall (scroll down for those pics) just sort of...grew! It now includes the WW library, and a few other odds and ends that required more leisurely viewing (to say nothing of space for a cup of coffee...or something!).
| | |
| --- | --- |
| And so it began... | Add some comic files |
| And some shelves | And a catalog rack for the magazines |
| Obviously need some extra light | Well, might as well bring up the trading cards |
| Cards and stationery and promo lit and the like are finally accessible! | And there's even space to sit and enjoy! (well, there will be once everything's put away!) |
***********
************
Chris Hayes lends a hand!
We had the good fortune to welcome Chris back for a visit...so, of course, we promptly recruited him to help set the Amazon Archives Al Rio wall which his lovely gift inspired!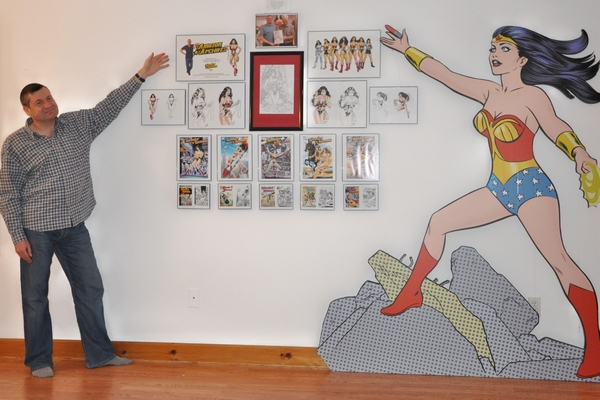 | | | |
| --- | --- | --- |
| Didn't seem right without a ribbon cutting ceremony! Chris Hayes does the honors with Pete & Christie Marston | Ribbon?? Well, at least the stars were WW colors! Chris Hayes of Amazon Archives 'ribbon' cutting | Chris and MAC Wonder Woman at the new Al Rio wall |
| Chris Hayes and Pete Marston - THAT's what started this wall! | Chris and Pete and MAC Wonder Woman admiring Al Rio's art | Whew! We made it just in time to get Chris on his plane home! |