New York City honors 40 years of Ms. Magazine!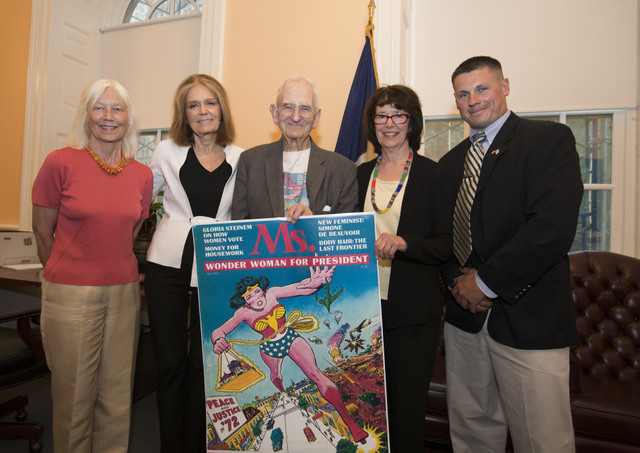 Pete Marston and his grandson, Will Holland, were proud to be included in the celebration of Ms. Magazine's 40th anniversary. They were on hand to represent Wonder Woman. She wanted to be there herself, but was too busy righting wrongs at that moment. She is - of course! - thrilled at Ms.' success in carrying the torch in the struggle for gender equality.
In this photo, Karin Lippert, Gloria Steinem, Pete, Joanne Edgar, and Will stand with a poster of the cover of Ms. Magazine issue #1. [Photo by Jenny Warburg, who has also been working hard for many years to right wrongs!]
With Wonder Woman on its cover, the first regular issue of Ms. magazine was launched in New York in July 1972. To celebrate the milestone 40th anniversary of the first national feminist magazine "Born in New York", City Council Speaker Christine C. Quinn and Council Member Gale A. Brewer NYC presented a Proclamation to Ms. founders, staff and friends on June 13, 2012 at City Hall

Photo by Jenny Warburg

Photos by Jenny Warburg

Gloria Steinem's sense of humor pops through, as she presents Karin Lippert with an...apron!

But, not to worry; this is not the typical yoke of yore, this is Wonder Woman!

Karin does it proud, all the while sharing her WONDERful smile!

Gloria Steinem pointing out Pete's excellent taste in t-shirts.

And on the right, T-shirt twins Barbara Moss and Pete model for a better view.

[Of course, Pete has been harboring this shirt since it's creation many years ago - if you look closely, you will see that it was signed in 2009 by WW Beth Delaney]

Elizabeth Marston was amused by the WW Pez, so she brought one along when she joined Ms. for their 1st anniversary celebration cruise. 39 years later, during the Ms. 40th fun, Joanne Edgar presented it to Pete for his Wonder Woman museum, to the amusement of all present! (the gift that keeps on giving?!)

Photos by Jenny Warburg

Can't have a birthday without cake!
Below are links to news stories online - click images to read!
"After 40 years, It's Still Ms. To Readers" by James Barron in the New York Times City Room blog

Photo by Jenny Warburg

"Ms. is Celebrated in the City of it's Birth" by Shelby Knox in Women's Media Center

Photo by Jenny Warburg

"Gloria Steinem: The Original Ms." interview by Marlo Thomas in Huffington Post

Photo by Jenny Warburg

"New York City Honors Ms. Magazine" by Steve Cohn in Media Industry Newsletter Online
***********
Wonder Women Working Together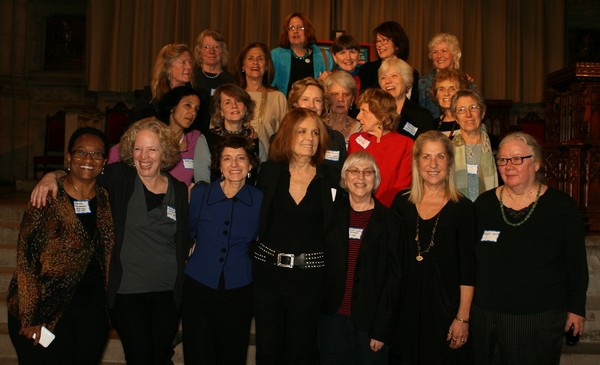 Ms. staffers gather to celebrate 40 incredible years of combined efforts!
I've just read the blogs about the Ms. 40th Birthday gathering that happened the day after the election. There is absolutely nothing that I can say that hasn't already been said much better than I could possibly do - read 'em!
40 years of Ms. staffers in one place! Incredible! [tho I prefer Gloria Steinem's expression - read on!] All I can add is...wish I was there with them for the past 40 years!
And, a special THANK YOU to Joan L. Roth and Joan Tedeschi for your photos!
| | | |
| --- | --- | --- |
| Karin LippertKLPR/Media, Communications Strategist, Feminist | Ms. Blogger | Chef Rossi, The Raging Skillet Catering Company |
| Ms. Publisher Pat Carbine | Official First Ms. Editor Suzanne Braun Levine | Ms. Ad Director and Associate Publisher Valerie Salembier |
***********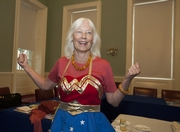 Remember the WW Magic Apron which appeared at the Ms. 40th celebration? Gloria Steinem presented the magic apron to Karin Lippert...and she wore it very well! Rather than pack it away, Karin chose to share, and the magic apron was sent to appear at the 'Honoring Women's Rights' Conference in CA! [I wonder if it was delivered via invisible plane?...]